Kenneth T. Whitby Award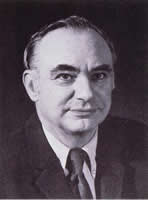 The Kenneth T. Whitby Award recognizes outstanding technical contributions to aerosol science and technology by a young scientist. The purpose of the award is to encourage continued work in the field and ongoing support of such endeavors.
The award memorializes Kenneth T. Whitby, known for his contributions to aerosol measurement, the study of aerosol properties and behavior, and the nature of atmospheric aerosols. Whitby established the University of Minnesota's Particle Technology Laboratory in the Department of Mechanical Engineering.
Eligibility for the 2023 Award
Nominee must have earned his/her highest degree in 2012 or later. Additional time allowances due to career breaks (e.g., due to dependent care, illness, military service, etc.) are permitted.
At least one letter of nomination must be submitted by a current AAAR member.
At least two but no more than five additional supporting letters (need not be from AAAR members; cannot be from a member of the Awards Committee).
Nomination letters should be limited to three pages and supporting letters should be limited to two pages.
Nominee's curriculum vitae
The letters must state the particular reasons for nominating the individual, including the eligibilty of the nominee as an early career stage investigator. The curriculum vitae should include a list of published work.
Nominations for the Kenneth T. Whitby Award, in one PDF file and in the order listed above, are due by June 1, 2023 to: jwu@aaar.org.
List of Recipients
1984 — Asit K. Ray
1985 — Juan Fernández de la Mora
1986 — Thomas W. Peterson
1987 — Gideon S. Grader
1988 — Sotiris E. Pratsinis
1989 — Jin Jwang Wu
1990 — Toivo T. Kodas
1991 — Pratim Biswas
1992 — Mark R. Stolzenburg
1993 — Gerhard Scheuch
1994 — Sarah J. Dunnettz
1995 — Anthony S. Wexler
1996 — Alessandro Gomez