History & Reviews of Aerosol Science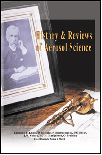 Edited by Gilmore J. Sem, Denis Boulaud, Peter Brimblecombe, David S. Ensor, James W. Gentry, Johannes C.M Marijnissen, & Othmar Preining, copyright by American Association for Aerosol Research (2005). Acid-free archival paper, 464 pages, plus 6 pages of title page, copyright page, foreword, and table of contents. Clothbound, washable color hardcover. Image of John Aitkin, his pocket condensation nucleus counter, and his schematic drawings of the CNC on the front cover. ISBN Number 0-9742299-1-1.
This book is the proceedings of the Second Symposium on the History of Aerosol Science, 13-14 October 2001, Portland, Oregon, USA. The book is available from the AAAR home office.
Table of Contents:
E.O. Knutson – David Sinclair – A Short Biography
G.M. Hidy – N.A. Fuchs and the Rise of Theoretical Aerosol Dynamics
R. Jaenicke – Christian Junge: The Pioneer of Aerosol Chemistry
Colbeck – John William Strutt, Third Baron Rayleigh: Victorian Polymath
J.W. Gentry – The Impact of Joseph Lister on Aerosol Science
R.F. Pueschel – Alexander Goetz (1897 - 1970)
P. Lilienfeld – Aerosol Photometry: A Brief History
A. Lieberman – Optical Particle Counters: Then, Now, and Tomorrow
M.A. Stowers and J.C.M. Marijnissen – A Brief History of Aerosol Chemical Characterization
C.A. Noble – Continuous Aerosol Mass Spectrometry: Historical Highlight of Mass Spectrometry and the Chemical Analysis of Airborne Particulate Matter
S.V. Hering – Automated Measurement of Chemical Constituents of Airborne Particles in the 1970s
R.A. Gussman and T. Merrifield – The History of Ambient Suspended Gravimetric Particulate Sampling
O. Nerbrink – The Evolution of Nebulization
L.E. Sparks – A Personalized History of EPA's Particulate Technology Research Program from 1970 to 1985 with Emphasis on Electrostatic Precipitators
R.B. Husar – The Emergence of the Bimodal Distribution Concept
A.W. Hogan – South Polar Aerosol Science: 1970 – 1990
C.I. Davidson and D.L. Davis – A Chronology of Airborne Particulate Matter in Pittsburgh
Colbeck – Smoke, Fog and the Press in Nineteenth Century London
P. Brimblecombe – History of Early Forest Fire Smoke in S.E. Asia
J.M. Clark – A History of the Development of Aerosol Science for Chemical and Biological Defense at Porton Down
D. Boulaud and A. Renoux – History of Aerosol Science at the Institute of Nuclear Protection and Safety and the University of Paris (1980 – 2001)
H. Fissan – 25 Years of Aerosol Research in Duisburg – From Fire Detection to Air Pollution to Nanoparticles
J. Gebhart, C. Roth, and J.W. Gentry – Aerosol Research at the Research Center for Environment and Health (GSF) in Frankfurt/M between 1968 and 1994