History of Aerosol Science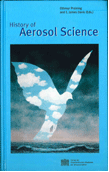 Edited by Othmar Preining & E. James Davis, copyright by Austrian Academy of Sciences, Vienna (2000). 438 pages, plus 8 pages of title page, copyright page, table of contents, and prologue. Index of subjects, index of proper names, addresses of authors, and a musical score composed especially for the history symposium included. Clothbound, washable hardcover. Artistic image of a dove and ocean on blue and white front cover. ISBN Number 3-7001-2915-7.
This book is the proceedings of the First Symposium on the History of Aerosol Science, 31 August – 2 September 1999, Vienna, Austria. This book was reviewed by Gilmore J. Sem, Aerosol Science and Technology 36:660-661 (2002). Limited copies are available from the AAAR home office.
Table of Contents:
Peter Brimblecombe – Aerosols and Air Pollution in Art
Rudolf B. Husar – Atmospheric Aerosol Science before 1900
James W. Gentry – Faraday's 1857 Bakerian Lecture on 'Relations of Gold and Other Metals to Lights'
Josef Podzimek – History of Atmospheric Aerosol Science between 1900 and 1950
Henk C. van de Hulst – A Historical Sketch of Light Scattering by Small Particles
Sheldon K. Friedlander – A Brief History of Aerosol Dynamics
George M. Hidy – Characterizing Atmospheric Aerosols in California
Hans Rohatschek – History of Photophoresis
Roger O. McClellan – History of Aerosol Science and Health Research
Michel Benarie – Aerosol Science and Military Research
Kvetoslav R. Spurny – In Memoriam
Josef Podzimek – Dust in Mines and Metallurgical Works – Georgius Agricola
Jan C.M. Marijnissen – William Gilbert and the History of Electrospraying
E. James Davis – The Influence of Maxwell and Boltzmann on the Theoretical Foundations of Aerosol Science
Ian Colbeck – Founders of Aerosol Science in the United Kingdom
Michel Benarie – Early Awareness of Bioaerosols by Louis Pasteur
Nazli Egilmez-Reynolds and Pramukh N. Jayasekera – Charles Norman Davies: A Legend in His Time
André Renoux – Jean Bricard, Pioneer of the French Aerosol Research, His Life and Work
Austin W. Hogan – The Aerosol Engineering of T.A. Rich
Gilmore J. Sem and Evan R. Whitby – Kenneth Thomas Whitby: A Pioneer of Aerosol Characterization
Rein André Roos – Bernard Vonnegut
Michael Shapiro – Isaiah Gallily – Israel's Founding Father of Aerosol Research
Ezra S. Cohen – Academician Alexei Sheludko and the History of Aerosol Science in Bulgaria
Josef Gebhart – History of the Gesellschaft für Aerosolforschung (GAeF)
Patrick Berghmans – History of the Dutch – Belgian Aerosol Society
Denis Boulaud – History of ASFERA, Association Française d'Etudes et Recherches sur les Aérosols
Josef Podzimek – The Early History of the Subcommittee on Nucleation of the International Commission on Cloud Physics (IUGG)
David S. Ensor – History of the American Association for Aerosol Research
Ian Colbeck – Development of the Aerosol Society in the United Kingdom
Taisto M. Raunemaa – Aerosol Science in Finland and the Finnish Association for Aerosol Research
Kanji Takahashi – Brief History of Aerosol Research in Japan
Umesh C. Mishra – History of Aerosol Research in India
Chiu-Sen Wang – Development of the Aerosol Association in Taiwan
Kang-Ho Ahn – History of Aerosol Science in Korea
Thomas C. O'Connor – Contributions from Ireland to the Measurement of the Size of Aerosols
Konstantin P. Koutzenogii – Study of Siberian Aerosol Research
Gerhard Kasper – A History of the Journal of Aerosol Science
Alex A. Lushnikov – Aerosols in and around the Karpov Institute
Heinz Fissan and Jan C.M. Marijnissen – European Aerosol Assembly (EAA)
Othmar Preining – Epilogue