COVID-19 and Conference Planning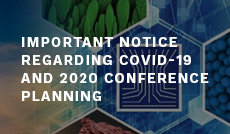 Like you, AAAR is closely monitoring the evolving dynamics related to COVID-19 and its potential impact on our Conference in October. Please be certain that the decisions that we make as an organization first and foremost will place the health and safety of participants like you as our top priority.
To this end we are announcing the following key changes:
At this time we are proceeding as if we will be hosting an in-person Conference October 5-9 in Raleigh. However, AAAR is considering alternative options ranging from holding an online virtual meeting to postponing the meeting, should circumstances necessitate that we must alter our plan. To minimize the uncertainty that this causes, all abstracts submitted will be carried over to the virtual or postponed meeting. You will have an opportunity to modify or withdraw your submission if the format or the date of the Conference change.
We are adding a new Special Symposium titled "The role of aerosol science in the understanding of the spread and control of COVID-19 and other infectious diseases", co-chaired by Gedi Mainelis and Paul Dabisch, to the four already planned for the 2020 Conference. Should you have relevant perspective or experience within this area of focus, we highly encourage you to submit an abstract.
We realize that current uncertainty on so many levels reduces the priority of a May 1 abstract deadline. Therefore we are moving the abstract submission deadline to July 6, 2020. You are certainly welcome to submit earlier. In particular, for those people who may need lead time to procure travel funds, visas, or have other similar considerations, we can provide a decision on abstract acceptance quickly after submission. A separate decision will then be made later regarding date, time, and type of presentation (poster versus platform).
As the revised abstract deadline nearly coincides with the traditional "late breaking" poster deadline, we will not offer this option for 2020.
Assuming we are able to hold the conference in person, student and professional travel grants will still be available. Applications for travel grants will open after abstract submission closes on July 6, 2020.
Bottom Line: Whether we deliver the conference as a live or primarily online event, your abstract submission will be applied to the 38th Annual AAAR Conference. The above efforts are our attempts to make the best of the situation and we hope you will join us in doing so.
Thank you for your understanding and support and we hope this message finds you in good health and in good spirits.
Andrea R. Ferro
AAAR President
Matti Maricq
2020 Conference Chair