COVID-19 and Conference Planning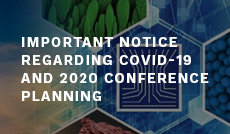 Dear AAAR members, supporters, and conference attendees,
The 38th AAAR Annual Conference will now be virtual. The conference was originally scheduled October 5-9, 2020 at the Raleigh Convention Center in Raleigh, North Carolina. We will keep the dates for the conference as close as possible to the original schedule. The abstract submission deadline remains July 6, 2020. Please go to aaar.org/2020/abstracts for any updates.
The conference committee is working closely with the AAAR business office Virtual, Inc. to develop the programming for the virtual conference. We hope to maintain many of the high impact activities that we all expect from the in-person conference and also take advantage of new opportunities available with the on-line conference.
We are also looking for dedicated volunteers to serve on AAAR committees in 2020-21. If you are a member, have been attending previous AAAR meetings, and are ready to give back to the Association by serving on its committees in the future, please contact AAAR Vice President Sergey Nizkorodov (nizkorod@uci.edu).
We appreciate your patience as we "go virtual". Please check the conference website for updates: aaar.org/2020/
While we would have preferred to see you all in Raleigh, we feel that there remains too much uncertainty with the COVID-19 pandemic to responsibly plan an in-person conference. By making a decision now, we are able to recoup our costs from the venue and have the time to plan an excellent virtual conference.
Thank you for your understanding and support and we hope this message finds you in good health and in good spirits.
Sincerely,
Andrea R. Ferro
AAAR President
Matti Maricq
2020 Conference Chair