Call for Nominations to the Board of Directors and Working Groups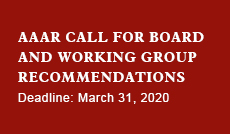 The American Association for Aerosol Research (AAAR) Nominating Committee is soliciting recommendations for candidates for the Board of Directors and Working Groups. This year's Nominating Committee consists of Murray Johnston, Lupita Montoya and C-Y Wu.
BOARD OF DIRECTORS
There are a total of 5 positions open for the 2020-2021 Board of Directors:
Vice President Elect
Secretary Elect
Directors (3)
Vice President Elect will serve 1 year as Vice President Elect, 1 year as Vice President, 1 year as President and 1 year as Immediate Past President (ex officio).
Secretary Elect will serve 1 year as Secretary Elect and 2 years as Secretary.
Directors will serve a 3 year term.
WORKING GROUPS
One Vice Chair is needed for each AAAR Working Group below:
Aerosol Chemistry
Aerosol Physics
Atmospheric Aerosols
Bioaerosols
Combustion & Material Synthesis
Control Technology
Health Related Aerosols
History of Aerosol Science
Indoor Aerosols & Aerosol Exposure
Instrumentation
Working Group Vice Chairs will serve 1 year as Vice Chair and 1 year as Chair.
All terms for Board of Director and Working Group positions will begin at the 2020 AAAR Annual Conference in Raleigh, North Carolina.
Please send an email to info@AAAR.org with "AAAR Recommendation" in the subject line if you know someone you feel would be a good candidate for serving on the AAAR Board of Directors or as a Working Group chair. Self recommendations are welcome.
It is not necessary for you to contact the person or confirm willingness to serve. The AAAR Nominating Committee is only seeking recommendations at this time.
The deadline to submit recommendations is March 31, 2020.