AS&T Editor-in-Chief Professor Jonathan Reid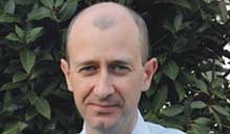 AAAR welcomes the new AS&T Editor-in-Chief Jonathan Reid! Jonathan is Professor of Physical Chemistry at the University of Bristol, UK. After studying for undergraduate and postgraduate degrees at the University of Oxford and a period as a post-doctoral researcher at the University of Colorado, US, he established a research team at the University of Birmingham, UK, and later the University of Bristol. His research has focused on developing new experimental tools to study microphysical processes on individual aerosol particles held in optical and electrodynamic traps. In his team, these tools are now used to study problems in formulation science and droplet drying, atmospheric aerosols, drug delivery to the lungs and biological aerosol. He has held EPSRC Advanced and Leadership Fellowships, and is the current president of the UK and Ireland Aerosol Society. He is director of the new EPSRC Centre for Doctoral Training in Aerosol Science, a UK-wide initiative spanning 7 universities and supported by ~50 industrial and public sector partners. The Centre aims to train 80 PhD students in aerosol science (2019-2027) and supports research across the aerosol science landscape.
Current AS&T Editors include: Yannis Drossinos (JRC, Italy), Jingkun Jiang (Tsinghua U., China), Pramod Kulkarni (NIOSH), Matti Maricq (Ford, USA), Hans Moosmüller (Desert Research Institute), Jason Olfert (University of Alberta, Canada), Kihong Park (GIST, Korea), Tiina Reponen (U. Cincinnati), Nicole Riemer (U. Illinois Urbana-Champaign), Jim Smith (UC Irvine), Mark Swihart (SUNY, Buffalo), and Jing Wang (ETH, Zurich).
AAAR members receive access to articles published within the past 12 months in Aerosol Science and Technology. Older articles are available to the public online.