What's New with AAAR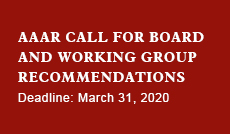 The American Association for Aerosol Research (AAAR) Nominating Committee is soliciting recommendations for candidates for the Board of Directors and Working Groups.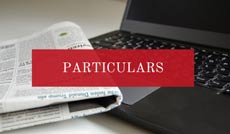 The AAAR newsletter, Particulars, is the primary information source for Association members.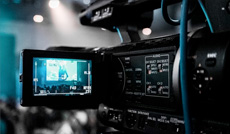 Seventeen new aerosol history videos are now available as part of AAAR's Aerosol History Series.
Announcements
Call for Award Nominations.
The 2020 AAAR Awards Committee invites you to submit nominations for the 2020 awards!
More
Call for International Fellow Award Nominations.
This year the International Aerosol Research Assembly bestows the International Aerosol Fellow award. The ceremony will take place at the European Aerosol Conference in Aachen, Germany 30 August to 40 September 2020. The deadline for nominations is 1 April 2020. A list of previous recipients is available at: http://www.iara.org/fellow.htm.
More
Call for Nominations to the Board of Directors and Working Groups
The American Association for Aerosol Research (AAAR) Nominating Committee is soliciting recommendations for candidates for the Board of Directors and Working Groups.
More
Donate Today!
Help us support aerosol science and its application to important societal issues. ;Your donation allows AAAR to recognize and support outstanding individuals and to promote aerosol research and innovation of the highest quality.
More
AAAR Student Chapters
AAAR maintains student chapters to serve the intellectual and professional interests of students pursuing a career in the field of aerosol research.
More